The best of Ireland and Northern Ireland
A true Irish experience, you'll travel with your own private driver through major cities, unparalleled scenery and soak in Irish culture and history. Begin in Dublin and work your way to Belfast, Galway, Limerick, the Ring of Kerry, Cork and more! Old Sod Travel can customize this itinerary based on your own travel needs and desires. Note: dinner reservations will be made at top restaurant's for each night of the trip.
Starting from $6,880 per person
Days 1 - 2: Dublin
Accommodation: Fitzwilliam Hotel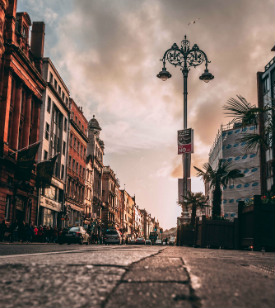 Upon arrival in Dublin, grab a cab to city centre and stretch your legs with a walking tour of Dublin along with a meal. Sites to see include Grafton Street, Trinity College, and the Book of Kells. While in Dublin enjoy a literary or musical pub crawl in the evening. Don't forget to visit St. Theresa's Church. A hidden oasis in the middle of the city, sumptuously decorated with artwork and stained glass.
After a good night's rest, enjoy your second day in Dublin touring the historic sites such as the Little Museum of Dublin, the GPO Witness History Museum, and Kilmainham Gaol (jail). The Little Museum of Dublin is also very close to your hotel and offers a overview of how life has changed in Dublin over the years Following lunch, take a tour of the Guinness Storehouse.
Days 3 - 4: Belfast
Accommodation: Bushmills Inn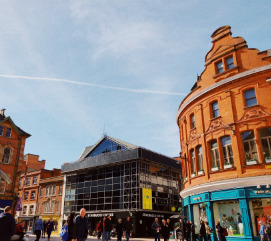 You're driver will take you up to Belfast for two days, where you'll stop at Newgrange to see the neolithic ruins along the way. Continue on to Belfast for a look around town and lunch. Walk around the Maritime Mile and consider a stop in the historic Titanic Museum.
Begin your second day with a drive to the Carrick-a-Rede Rope Bridge and walk across the teetering 80-foot-high bridge (not for the faint-hearted!). Next stop is the Giant's Causeway. This geological wonder has been the source of many Irish myths. Then, visit Dunluce Castle. Finish the day back at Bushmills and take a tour of the Old Distillery
Day 5: Derry/Ashford Castle
Accommodation: Ashford Castle
Leaving Bushmills today, you will travel along the coastline reaching the walled city of Derry/Londonderry. Enjoy a guided walking tour with Martin McCrossan tours around the only remaining completely walled city in Ireland. Stop for a bite at Peadar O'Donnell's before going to Ashford Castle where you'll enjoy luxe accommodations for the night.
Day 6: Galway
Accommodation: Park House Hotel Galway
In the morning enjoy the Hawk Walk at the School of Falconry before you depart Ashford Castle. As you leave Ashford, you'll detour for a visit to the Connemara region. It is widely regarded as one of the most beautiful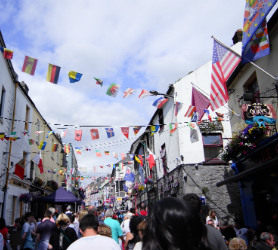 parts of a beautiful country - the real emerald of Ireland. It is one of the last areas in Ireland where Irish is still spoken. Visit Kylemore Abbey. In addition to some spectacular Victorian Gardens and a stately estate you'll find some great hiking trails. If the weather is good, it will be a great afternoon to be outside. Visit the Marconi Station and learn about the interesting history of the early days of long range wireless communications.
You'll arrive to Galway in the evening and walk this vibrant "City of Tribes" Try dinner at one of our suggested restaurants - Kai, Loam, Quay Street Kitchen, or John Keogh's. Or join a guided food tour to experience the best of the city cuisine!
Day 7: Limerick
Accommodation: Dromoland Castle
Today your first journey will be to the Cliffs of Moher, which runs five miles long and 702 feet high. Check out O'Brien's Tower, which has served as a viewing point for hundreds of years, and take in the stunning views. Stop in Doolin for lunch, where you can enjoy the charms this seaside village offers. Considered the traditional music capital of Ireland, it is popular worldwide.
Next stop - The Burren is a lunar landscape that incorporates a vast cracked pavement of glacial-era limestone, cliffs and caves, fossils, rock formations and archaeological sites. It is also one of Ireland's greatest attractions. Stay at Dromoland Castle this evening in County Clare and enjoy a wonderful evening.
Day 8: Ring of Kerry
Accommodation: The Great Southern Killarney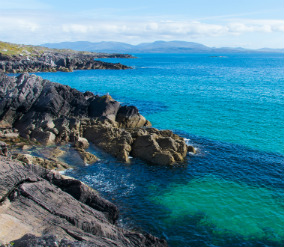 Today will be dedicated to exploring the Ring of Kerry (or the Iveragh Peninsula) and/or Dingle and the Dingle Peninsula. This beautifully natural and somewhat magical area of Ireland features expansive beaches, sites dating back to ancient Ireland, and some truly moving landscapes.
Take in the views of the sublime MacGillycuddy's Reeks (Ireland's highest mountain range) from Moll's gap, traverse the Gap of Dunloe and admire its majestic lakes or maybe you'll find yourself at Ladies View staring out over the horizon. If you opt to stay only in Killarney, visit Killarney National Park, home to Ireland's only native red deer and the idyllic setting for Muckross House and Gardens. This delightfully restored Victorian house dates back to 1843 and has a total of 65 rooms.
Day 9: Cork
Accommodation: Hayfield Manor Cork
Tour Killarney National Park this morning and visit Muckross House. Continue to travel to Kinsale - a quaint seaside village with stops along the way: Glengarriff, Garnish Island, Skibereen and Inchydoney Beach. Next, travel to Cork and stay at Hayfield Manor for the evening.
Days 10-11: Dublin
Accommodation: Alex Hotel Dublin
This morning consider a visit to Cobh, a quaint seaport, which was the departure point for 2.5 million Irish men, women, and children who emigrated to North America and Australia between 1848 and 1950. There are two exhibits that are worth visiting here. One is devoted to Irish emigration and the other chronicles the last stop of the Titanic before its sinking in the Atlantic. In the afternoon, travel to Dublin, stopping at the Rock of Cashel or Kilkenny.
After an evening at the wonderful Alex Hotel, you'll depart for the airport and head home, savoring every moment of an unforgettable Irish experience.
This itinerary includes 10 nights of accommodations, Irish breakfast each morning and your own driver and guide. Activities for each day will be customized based on traveler preferences. Speak with a trip planner today!