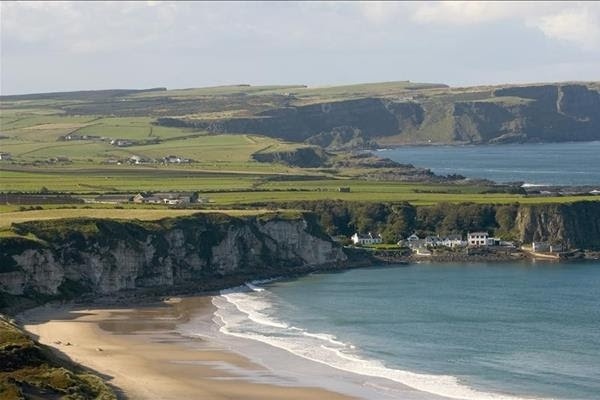 ---
For such a small coun­try,
North­ern

Ire­land

has a lot to offer.

Yet most Amer­i­cans that travel to the island of

Ire­land

never step foot in the north. Peo­ple that travel to the South of

Ire­land

gen­er­ally go there for the scenery, the peo­ple, the his­tory, the accom­mo­da­tion, the food and most of all, the craic. If that match's your list of pri­or­i­ties, you really need to get to

North­ern

Ire­land

.
Belfast is a smaller city than Dublin but it offers just as much fun. In the past 20 or so years the city has truly changed it's char­ac­ter from a stodgy ship­build­ing colos­sus, to a vibrant, buzzing city that is fast becom­ing the place that Euro­peans head to for a week­end of great food and drink. Restau­rants focused on local ingre­di­ents are pop­ping up everywhere.
Of course there's so much more to North­ern Ire­land than Belfast. Along the south coast you have the Irish Sea, the Mourne Moun­tains, some beau­ti­ful beaches and fun towns. The Coastal Cause­way (shown above) is one of the world's great­est dri­ving routes. On a clear day you can see Scot­land but why bother look­ing when you have vis­tas like that above. The Antrim Coast offers sev­eral 'can't miss' attractions.
Make the north a pri­or­ity when plan­ning your trip to
Ire­land
or bet­ter still, make it your des­ti­na­tion. Much to do and see!
Hotels in

North­ern

Ire­land



North­ern
Ire­land
is a small coun­try. From Belfast, you can't drive more than an hour and a half with­out hit­ting the bor­der of the Repub­lic of
Ire­land
. So if you don't want to change hotels each night, book a few nights at Cul­lo­den Estate, The Mer­chant, The Europa or Tara Lodge. From Belfast you can take a few day trips and see most every­thing that you want to see.
The other option would be to book a night at the Sleive Donard in New­cas­tle. Hike the Mourne Moun­tains or play a round of golf at neigh­bor­ing Royal County Down or up the coast at Ardglass.
From New­cas­tle you can drive an hour to Belfast and explore the city. When you've had enough of city life, head
45
min­utes north and west for a relax­ing night at Bal­ly­gally Cas­tle and enjoy a front row view of the
Irish
Sea. Head to the Gob­bins the next morn­ing and then drive up the Coastal Cause­way. Bush­mills Inn is a cen­tral place from which to visit the Carick-A-Rede Bridge, The Bush­mills Dis­tillery, Dun­luce Cas­tle and of course, The Giants Causeway.
You are prob­a­bly not head­ing to
North­ern
Ire­land
just for the hotels, but while you're there, you might as well be comfortable!
Irish Whiskey on the rise
Scotch Whisky grabs all the head­lines when peo­ple talk about dis­tilled spir­its in the British Isles.
Irish
whiskey how­ever is mak­ing a come­back as of late. And unlike it's Scot­tish cousin's most of the new distillery's in
Ire­land
are inde­pen­dent brands that are not owned by large corporations.
Housed in a for­mer prison where both Repub­li­cans and Loy­al­ists were once held, Belfast Dis­tillery Com­pany has begun mak­ing McConnell's
Irish
Whiskey, which is a pre­mium blend. In the years to come,
BDC
plans to roll out a vari­ety of sin­gle malts under the McConnell's brand.
The project marks the return of
Irish
Whiskey to Belfast and will be the first work­ing dis­tillery in over
85
years. When fully oper­a­tional the
3
,
000
liter pot stills will have an annual capac­ity of
400
,
000
liters.
Bring the Sunblock
You prob­a­bly aren't going to plan a beach vaca­tion to
North­ern
Ire­land
, but while you're vis­it­ing, you might think about plan­ning a day or two to relax on some of
North­ern
Ire­land
's many Blue Flag beaches. Some are active with surfers. slack­lin­ers and kids play­ing in the surf. Oth­ers are secluded and offer a great spot to read a book or just con­tem­plate some beau­ti­ful views. Beaches might not be the main goal of the trip, but a lit­tle beach time any­where can be time very well spent.
Trav­el­ing in the North
Many Amer­i­cans that I've spo­ken to about
North­ern
Ire­land
have expressed at least a lit­tle con­cern about their safety in Belfast. I live out­side of Bal­ti­more and near Wash­ing­ton
DC
. There are parts of these cities that I would avoid at all costs and con­ver­sa­tions that I wouldn't have. I travel to both often and with­out con­cern. Accord­ing to sta­tis­tics that I found on line, the mur­der rate per
100
,
000
res­i­dents in Wash­ing­ton
DC
is
15
.
9
, In Bal­ti­more
33
.
8
and for the
US
as a whole, the rate is
4
.
3
mur­ders per
100
,
000
res­i­dents. In
North­ern
Ire­land
, the mur­der rate is .
9
deaths per
100
,
000
residents.
If you are trav­el­ing in Belfast, sta­tis­ti­cally you are sig­nif­i­cantly safer than when trav­el­ing in the United States. Avoid some work­ing class neigh­bor­hoods and cer­tain con­ver­sa­tions and you will have noth­ing at all to worry about. So min­i­mal risk and tons to see and do! What are you wait­ing for? Give us a call or
contact us today
.