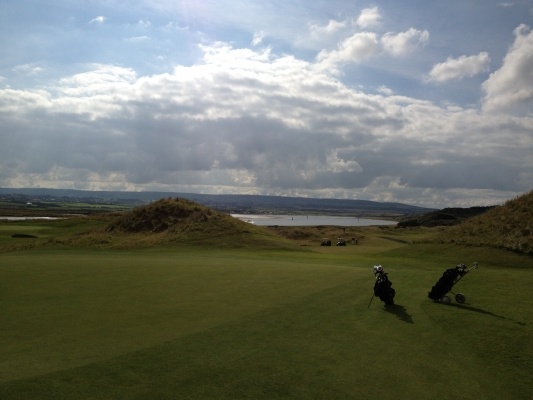 As the Celtic Tiger con­tin­ues to work its way through aus­ter­ity and regain its foot­ing, the golf in Ire­land con­tin­ues to get bet­ter and bet­ter, and it was already pretty good!
Unbe­liev­able courses in stun­ning loca­tions are build­ing new holes to replace holes that were gim­micky or oth­er­wise unsat­is­fy­ing. Oth­ers are adding another 9 or 18 holes to the orig­i­nal 18 or 36. This means that you can stay in one place for a few days with­out hav­ing to play the same old spec­tac­u­lar holes every day. Still other courses are just get­ting bet­ter and better.
I have read that there are about 380 courses on the island of Ire­land which is amaz­ing for a pop­u­la­tion of roughly 6 mil­lion peo­ple. If you are an Amer­i­can trav­el­ing to Ire­land you prob­a­bly only need to know about the top 100, if you even need to con­sider that many. It's not so much that the other courses are that bad but why travel all that way to play any­thing but the best courses that Ire­land has to offer?
Golf in Ire­land can be very expen­sive cost­ing as much as $275 a round. Add another $40 – 60 for a caddy or half that amount for a cart and a round of golf in Ire­land can make for an expen­sive day. There are how­ever many excel­lent golf courses that you can play for less than $75 includ­ing a caddy or cart. They won't be named Bally­bunion or Royal County Down but can enjoy a great round in a stun­ning location.
The goal of this blog is to gather opin­ions, facts, expe­ri­ences and obser­va­tions about the very best courses in Ire­land. Not just the famous courses but about those other lit­tle courses that offer a great 4 hours with­out the expense or pre­tense asso­ci­ated with the names that every­one knows.
I have played, seen or toured over 30 courses. My goal is to play the top 100 courses over the next sev­eral years with a bias toward links courses. It's a grind but I feel that I owe it to my poten­tially loyal future audi­ence. I might find time for a Guin­ness along the way.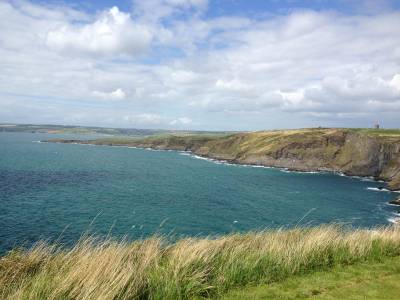 12th Hole at Old Head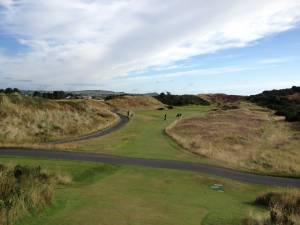 10th Hole at Royal County Down
Some courses to con­sider in no par­tic­u­lar order:
Dro­moland Cas­tle

Kil­lar­ney Fish­ing and Golf – Mahoney Point

Kil­lar­ney Fish­ing and Golf – Killeen Course

Royal County Down

Ring of Kerry

County Louth

Skel­lig Bay

Bally­bunion Old

Bally­bunion Cashen

Carne

Con­nemara

Bantry Bay

Ennis­crone

Ros­apenna – Old Tom Morris

Ros­apenna – Sandy Hills

Water­ville

Royal Portrush – Dun­luce

Royal Portrush — Val­ley

Ash­ford Castle

Rosses Point

The Old Head of Kinsale

Ceann Sibeal

Lahinch — Old

Lahinch — Cas­tle

Tralee Golf Club

Dooks

Adare Manor

Ken­mare

Port­stew­art — Strand

Port­stew­art – River
What do you think? Please let me know your thoughts on any of the above that you have played or other courses that you think deserve to be in the dis­cus­sion with the above great courses.