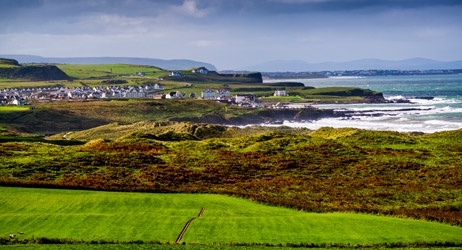 Another eco­nomic update.
If you were pay­ing a deposit on a golf trip to Ire­land one year ago, the tour oper­a­tor had to pay $

1

.

35

US

for each euro. Put another way, the

180

euro deposit (greens fee) at Bally­bunion was cost­ing the oper­a­tor $

243

US

. Today, that same

180

euro deposit would only cost $

203

US

.
A pack­age that includes hotel, trans­porta­tion and golf for

7

days that cost $

3500

a year ago, now will only cost you $

2940

. That's a pretty sig­nif­i­cant reduction!
That's all well and good you might think, but what about the really sig­nif­i­cant cost of a trip to Ire­land? I'm talk­ing of course about the cost of a pint of the 'black stuff'. Assum­ing no change in the cost of a pint over the last

12

months, a

4

euro pint in

2014

cost you $

5

.

40

US

. That same

4

euro pint would only cost you $

4

.

52

US

today. Eighty Eight cents might not sound like a lot, but when you fac­tor in the num­ber of pints of Guin­ness that you might drink over

7

days.…well it adds up!
What about Scot­land you ask? The British Pound, oth­er­wise known as the

GBP

has depre­ci­ated

9

% against the dol­lar over the past

12

months. So the golf trip to Scot­land that cost $

3500

a year ago, only cost $

3185

this year. This dif­fer­ence is solely do to changes in the exchange rate.
In a highly unsci­en­tific study that I con­ducted a year ago, com­pa­ra­ble Scot­tish and Irish golf trips var­ied sig­nif­i­cantly in cost when con­verted into dol­lars. Top end golf courses gen­er­ally ranged from

150

to

200

euros in Ire­land and from

150

to

200

British Pounds in Scot­land. The same rela­tion­ship held true with hotels and trans­porta­tion providers. As an Amer­i­can, the dif­fer­ence was that it cost me $

1

.

36

to buy a euro and $

1

.

71

to buy a pound. Roughly a

26

% dif­fer­ence in cost.
For an Amer­i­can, Scot­land is

9

% cheaper than last year and Ire­land is

16

% cheaper than last year. My dol­lar bought me

26

% more in Ire­land last year than it did in Scot­land. There­fore, an Amer­i­can will spend

33

% less on a golf trip to Ire­land than he or she would on a com­pa­ra­ble trip to Scotland.
I can't say for sure if my analy­sis would stand up to the scrutiny of Alan Greenspan or frankly if he even would have been able to fol­low my con­vo­luted logic. I can how­ever tell you with cer­tainty that Scot­land and Ire­land are cheaper for Amer­i­cans than they have been in years.
Give us a call today and we will help you plan a trip that you will be talk­ing about for years.

Another South­west Gem?
Mike Keiser, the devel­oper and owner of Ban­don Dunes is pur­su­ing a prime loca­tion on the Din­gle Penin­sula for his next links golf project. Located on a spit of land that juts out into Din­gle Bay, the course, and pos­si­bly two of them, will have spec­tac­u­lar views in every direc­tion. The Iver­agh Penin­sula (The Ring of Kerry) and its rugged moun­tains are south and east of the pro­posed sight. North and East is the equally beau­ti­ful and rugged Din­gle Penin­sula. The world renowned Inch Beach is the only cur­rent occu­pant of this penin­sula. The future course(s) is(are) just

300

yards from Dooks Golf Course but sep­a­rated by water and a

40

minute drive around Din­gle Bay and Castle­maine Harbor.
Bush­mills Dunes
Dr. Alis­tair Hanna who was the orig­i­nal devel­oper of the course, fought for years to get nec­es­sary approvals for the con­struc­tion of

18

holes of what was likely going to become pure links magic. He obtained per­mis­sion finally in early

2014

only to pass away later in the year. The land recently sold and future plans are still uncer­tain. We can only hope that Dr. Hanna's orig­i­nal dream is real­ized. It would cer­tainly cement the rep­u­ta­tion of the North Antrim Coast as one of golfs lead­ing destinations.
On Hold for Now