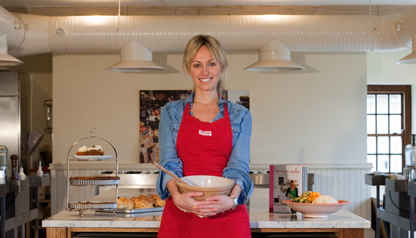 Close to thirty years ago my new wife and I hon­ey­mooned in Ire­land. We loved the peo­ple, the scenery, the hotels, the pubs, the B&B's and of course, the Guin­ness. The food, not so much. Irish "Cui­sine" at the time could best be summed up as fish & chips and boiled vegetables.
Have things ever changed!
Myr­tle Allen is widely con­sid­ered to be the matri­arch of Irish Cui­sine. Her restau­rant, The Yeats Room, opened in 1964 in Bal­ly­maloe, Cork even­tu­ally grow­ing to become the widely acclaimed Bal­ly­maloe Hotel and Restau­rant. Myr­tle had a unique take on tra­di­tional Irish farm­house food rely­ing solely on locally grown pro­duce, fish and meat. This of course meant that the menu would change with the season. This approach is com­mon­place today but at the time it was a rad­i­cal break from con­ven­tional food wisdom.
In 1977 she began to write about how ter­roir influ­ences the taste of food. The con­cept was pop­u­lar in wine cir­cles but had never before been applied to food. Before long the Irish started eat­ing out more and soon young adults begun to take an inter­est in seri­ous cook­ing trav­el­ing to cook­ing schools around Europe.
By the begin­ning of this cen­tury, Ire­land was becom­ing a 'foodie' destination with excel­lent, locally sourced restau­rants the norm through­out the North and the ROI. Real­iz­ing that good food could be an impor­tant draw for tourists, the Irish Tourist Board began to devote sig­nif­i­cant atten­tion to the devel­op­ment of local food trails around the country.
Today, the Repub­lic of Ire­land and North­ern Ire­land lay claim to one of the strongest food cul­tures in Europe. Aspir­ing Euro­pean chefs actu­ally come to Ire­land to study at the famous Bal­ly­maloe Cook­ery School run by Myrtle's daugh­ter in law, Darina Allen.
Food Tourism
Good Food Ire­land pio­neered the vision for Food Tourism in Ire­land by cre­at­ing a brand stan­dard as the con­sumer fac­ing endorse­ment for the best Irish food expe­ri­ence through a com­mit­ment to local food. Since the foun­da­tion of Good Food Ire­land it has proven that by lever­ag­ing food in tourism, greater com­meri­cial oppor­tu­nity exists for the agri-food and tourism indus­tries as well as Ireland's econ­omy at large. Good food Ire­land is the vision of Mar­garet Jef­fares who launched the brand in Novem­ber
2006
, bridg­ing the gap between the agri-food and tourism hos­pi­tal­ity sec­tors, Ireland's two biggest indige­nous indus­tries and pio­neer­ing food tourism for the island of Ire­land. Today it is the pre­mium Irish food expe­ri­ence brand, rep­re­sent­ing Ireland's culi­nary iden­tity at home and abroad, show­cas­ing the very best food together with the peo­ple behind the food.
Clodagh McKenna
Over the past
15
years, Clodagh McKenna has become one of the most rec­og­nized faces and brands in Ireland's Food
&
Lifestyle sec­tors. With her pas­sion for food com­bined with her busi­ness savvy, Clodagh has devel­oped her brand into an emerg­ing busi­ness empire encom­pass­ing Clodagh's Kitchen restau­rants, her tele­vi­sion shows, cook­books and her food col­umn in Ireland's num­ber
1
glossy mag­a­zine, The Gloss. She is reg­u­larly asked to con­tribute to food columns in national news­pa­pers and magazines.
Irish Food Trails
After our clients return from the Old Sod, we always try and do a debrief about their trip. One of our usual ques­tions is "What sur­prised you the most"? Almost with­out excep­tion, the food is the answer. Low expec­ta­tions? I'll often reply. No.….the food just was outstanding!
As you think about the many rea­sons to go to Ire­land, put food in the plus col­umn. Because of this newslet­ter you might not be sur­prised by the food in Ire­land. You will how­ever be pleased!