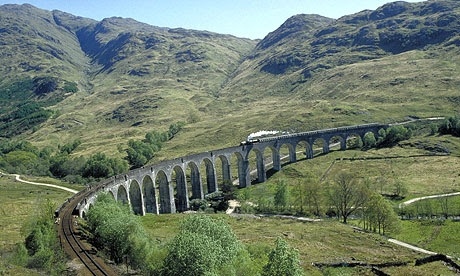 "All aboard for Hog­warts": Many read­ers of this blog will soon be send­ing sons and daugh­ters back to school for the semes­ter. Your child may or may not be headed to Hog­warts, but Hog­warts is just one of the many des­ti­na­tions ser­viced by Scotrail.
When I talk to peo­ple about a trip to Ire­land and the rest of the British Isles, travel by rail is sel­dom a topic of con­ver­sa­tion. It should be, espe­cially for a cou­ple. For a larger group, hir­ing a dri­ver often makes sense eco­nom­i­cally. Amer­i­cans are more com­fort­able on the road but in the British Isles, rail is often the way to go.
Dri­ving in the the UK and Ire­land is not a relax­ing or famil­iar expe­ri­ence for most Amer­i­cans. Dri­vers sit in the pas­sen­ger seat. Rotaries (traf­fic circles) require the dri­ver to travel clock­wise. When you take a left hand turn, you return to the left side of the road, not the right. Park­ing lots? For­get it. You're on vaca­tion. Who needs the stress and confusion.
Trav­el­ing by rail com­bined with local tours and guides is a great option to con­sider when plan­ning a trip to the British Isles. Call us today and we'll help you put together a stress free trip that you'll be talk­ing about for years (or at least until your next trip with Old Sod Travel).
Ire­land by Rail — It sure beats driving
Although the Irish rail sys­tem is nowhere near as well devel­oped as those of Scot­land or England, traveling by rail can be a great way to explore the Old Sod.
Around Dublin, pub­lic trans­porta­tion abounds. There really is no rea­son to have a car. You can get wher­ever you want to go around Dublin using trains, street­cars (the
LUAS
) and buses.
Out­side of Dublin, most every city and larger town has a rail­road sta­tion, usu­ally in the mid­dle of town. From the town's rail­road sta­tion you will usu­ally have a short walk or cab ride to com­fort­able accom­mo­da­tions and lively restaurants.
The only appar­ent draw­back is get­ting out to see the coun­try­side. Not a prob­lem! Local guides can be found in every city and most towns. In Gal­way, there are tours that will take you out into the Con­nemara Region, to the Aran Island or the Cliffs of Moher and the Bur­ren. In Kil­lar­ney there are tours up to the Gap of Dun­loe, around the Ring of Kerry or over to the nearby Din­gle Penin­sula. From Belfast you can get a tour up to The Giants Cause­way or the Coastal Causeway.
Tak­ing the train may require a lit­tle more cre­ativ­ity once you get to your stop, but that's what we're here for. Call us today for a trip around Ire­land by rail.
Ire­land Rail
The World's Old­est Rail­road System
The first steam pow­ered rail engine was invented in
1804
in Eng­land. In
1825
Stock­ton
&
Dar­ling­ton pio­neered the first pub­lic pas­sen­ger rail­way in the world. As a result, Eng­land has one of the most exten­sive rail sys­tems in the world.
In its entirety, England's rail sys­tem encom­passes
11
,
000
miles of track,
2500
sta­tions and around
1500
trains per day. Clearly the sys­tem is vast, but due to mil­lions of pounds of invest­ment in the past decade, the sys­tem is also very fast. In other words, it's a great way to see Eng­land and Wales.
Speed is not the only rea­son to con­sider a train trip in Eng­land. Hon­our­ing George Mor­timer Pull­man, the father of lux­ury train travel, the Bel­mond British Pull­man car­riages are the height of train lux­ury. Each is indi­vid­u­ally named with a unique story to tell.The Bel­mond British Pul­man offers day and week­end trips through­out the year. Cham­pagne break­fasts, tast­ing menus com­ple­mented by fine wines, a mur­der mys­tery or an overnight trip to the Ritz.
Gaelic Ath­letic Asso­ci­a­tion (

GAA

)
Only in Ireland: People may remem­ber the old
TV
pro­gram called the
Wide World of Sports
. From
4

:

30

until

6

:

00

PM
every
Sat­ur­day
, Jim McKay would go "
Span­ning
the globe to bring you the con­stant vari­ety of sport… the thrill of vic­tory… and the agony of defeat… the human drama of ath­letic com­pe­ti­tion".
Bar­rel jump­ing, bad­minton, curl­ing, cliff div­ing in Mex­ico - all of them mem­o­rable. The broad­cast that I couldn't wait for each year came live from the Kilkenny or Croke Park. Hurl­ing was the cra­zi­est sport I had ever wit­nessed. Make a point of try­ing to work a
GAA
game into your next trip.
Fam­ily Trips
We see a big surge in inquiries around the hol­i­days, many of them from fam­i­lies. Dur­ing fam­ily get togeth­ers peo­ple often talk about travel and sum­mer plans begin to emerge. The excite­ment gen­er­ated over din­ner or drinks begins to ebb as talk tran­si­tions to plan­ning. It doesn't take too long before a great idea turns into "how are we going to do this"?
Money of course is the other big obsta­cle. In most extended fam­i­lies you are going to have some for whom money is no object. For many oth­ers, it is a big obsta­cle. This of course puts even more stress into the trip planning.
So how can we help? Call and talk to us for
15
to
20
min­utes and we can get enough infor­ma­tion from you to develop a pre­lim­i­nary itin­er­ary. Once you've recieved this cus­tomized itin­er­ary and pre­lim­i­nary pric­ing, you share it with the group. Gather the feed­back and share it with us so that we can revise the itin­er­ary as much or as lit­tle as needed until you have the per­fect trip for your fam­ily or group.
More often than not, fam­i­lies are sur­prised at how afford­able we can make these trips. One group of
18
cousins is headed to North­ern and North­west Ire­land for nine nights stay­ing in four and five star acco­mo­da­tions for $
1635
per per­son shar­ing. A multi-generational fam­ily of
20
is trav­el­ing in the south stay­ing in four star, cen­trally located hotels for less than $
1000
per per­son. These prices include hotels, pri­vate vehi­cle with a dri­ver and break­fast each morning.
Ire­land and Scot­land are a lot more afford­able than many peo­ple think. Give us a call today. We'll take your fam­ily hol­i­day con­ver­sa­tions and turn them into vaca­tions that you'll be talk­ing about for years to come.