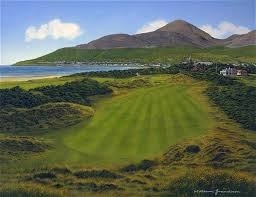 As the dol­lar strength­ens vs. other cur­ren­cies the price of a golf trip to Scot­land or Ire­land is drift­ing closer to the cost of play­ing here in the states. How close? You might be surprised!
I built four itin­er­aries for a group of four trav­el­ing from my home in Mary­land. The group left on June 16th and returned on the 22nd, dou­bled up in hotels, rented a large van and played one round of golf a day. In all four des­ti­na­tions my group stayed in four or five star hotels and played the very best courses in the area. Since this group was work­ing with the very best tour oper­a­tor in the busi­ness, avail­abil­ity was assumed not to be an issue.
The results sur­prised me:
North­ern Michigan — $

2888

South­west Ireland — $

3069

Ban­don Dunes — $

3604

Ayr­shire Coast, Scotland — $

3623
What drove the costs? Flights were the biggest vari­able. Get­ting to Michi­gan cost less than half what it cost to get to Shan­non or Glas­gow. Bag­gage fees on domes­tic flights do nar­row the gap a lit­tle. The trip to Ban­don Dunes was sur­pris­ingly easy. With a new flight from San Fran­cisco, just one stop is required com­pared to the three stops required last time I checked. The cost to rent a van in all des­ti­na­tions was neg­li­gi­ble com­ing in at well under $200 per golfer. The cost of golf was the high­est at Ban­don and low­est in Michi­gan with Scot­land com­ing in a full 15% above Ire­land. Hotels were more expen­sive in the US com­ing in above $1000 in both destinations.
Ire­land was the least expen­sive at roughly $600 for five nights in good four star hotels although some more expen­sive choices could eas­ily have been included. Strip out the cost of your flight and Ire­land is your low­est cost trip and Scot­land is only $69 more expen­sive than Michi­gan. As the length of the trip increases and you have more days over which you can amor­tize the flight, Scot­land and Ire­land look even more appeal­ing. The bot­tom line is that the great­est links golf in the world is more afford­able than it has been in years.