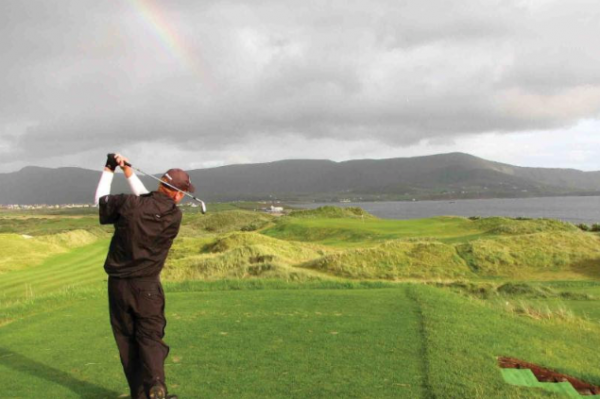 Cama­raderie, Com­pe­ti­tion and lots of Craic: What a bet­ter way to describe the first ever Coyne Cup to be con­tested next Sep­tem­ber
25
th
-
29
th
in County Mayo, Ireland?
When plan­ning the event, Tom Coyne insisted that the tour­na­ment reflect the spirit of his Né
w York Times
Best Sell­ing book,
A Course Called Ire­land.
"Peo­ple are not going to want to walk from course to course", I said. Well of course not was the reply. So we've made arrange­ments with J. O'Callaghan

&

Sons, Ire­lands leader in Lux­ury Pas­sen­ger Travel. I then said: "With all due respect to your hosts

10

years ago, most of the atten­dees are going to want to stay some­place nice and there's no way I'm eat­ing at a Chip­per every night". Tom was in agree­ment on these points as well and sug­gested that we con­tact his good friend, the Pro­pri­etor of Mount Fal­con, Alan Maloney.
So other than the trans­porta­tion mode, the accom­mo­da­tions and the food, the Coyne Cup is going to be exactly like the book. Some great golf, lot's of laughs and mem­o­ries to last a life­time.
Coyne Cup Announcement
A great tra­di­tion should start where it all began. So Ennis­crone Golf Club will host the prac­tice round on Sun­day and Round

2

on Tuesday.
Tom and his father Jim dis­cov­ered Ennis­crone while on a "castles-and-graveyard" trip when Tom was

14

years old. It marked the begin­ning and maybe inspi­ra­tion for future golf trips to Ire­land which cul­mi­nated in his epic table,
A Course Called Ire­land
.
The course has only got­ten bet­ter with age and if this is your first round on the Old Sod, you'll under­stand why returnees can't wait to stick a tee in the sand and wan­der around the dunes for four hours.
One of the first courses that I ever played in Ire­land, it is still one of my favorites. I vis­ited
the course in Octo­ber and the Gen­eral Man­ager was excit­edly explain­ing the improve­ments
that they had and were mak­ing. Stunned, I asked him what could you pos­si­bly do to make it better?
Rosses Point or County Sligo as it is alter­nately known doesn't have the mon­s­ter­ous dunes of an Ennis­crone or Carne. It doesn't need them. Sur­rounded by beaches on three sides, an off­shore light­house and of course Ben­bul­ben, Rosses Point is a feast for the eyes and a beast of a course.
Rosses Point is the host of the 'West of Ire­land' Cham­pi­onship. The tour­na­ment is usu­ally the first Amat­uer event con­tested each year in Ire­land. Past win­ners have included Shane Lowry, Padraig Har­ring­ton and Rory McIlroy.
There are very few places that you can go to expe­ri­ence the sense of remote­ness offered up by the Bel­mul­let Peninsula.
From many tee boxes or greens Carne offers stun­ning views stretch­ing for miles. Moun­tains, ocean, bays, rolling farm­land. Who needs

50

shades of grey when when Ire­land offers

40

shades of green? You will see them all at Carne.
The course itself is well main­tained, but hardly man­i­cured. A links course is sup­posed to be a lit­tle rugged. The most promi­nent Irish golf course archi­tect of his time, Eddie Hack­ett, called Carne "the great­est can­vas he'd ever been given". The world's lead­ing author­ity on links golf, Tom
Coyne
, called Carne bril­liant. He loved every inch of the place and we think that you will feel the same way (unless its blow­ing

40

knots and rain­ing sideways).
We know that you prob­a­bly just care about the golf, but why not be comfortable?
That's what we thought any­way so we've cho­sen one of Ireland's pre­mier hotels to host the inau­gural
Coyne
Cup
next Sep­tem­ber. Mount Fal­con is just three miles from the bustling town of Bal­lina,

25

min­utes from Ennis­crone, and just over an hour from Rosses Point and Carne. In other words, per­fectly located for the
Coyne
Cup
. We didn't just choose Mount Fal­con because of its loca­tion though, we chose it because its com­fort­able, very comfortable.
Many peo­ple have told me that they would love to play golf in Ire­land. Many excuses are offered for not mak­ing the jour­ney. The
Coyne
Cup
is the per­fect anti­dote to inertia.
A
rrive at the air­port on time for your flight (which we can help you book) to Shan­non. When you get to Shan­non, look for a sign that says
Coyne
Cup
.
Have the most amaz­ing expe­ri­ence of your golf­ing life.
The bus will return you to Shan­non and your flight back to the states. Or you can catch a bus to Lahinch for

18

holes. Doon­beg and Bally­bunion to follow.
No plan­ning is required. It's not com­pli­cated. Sign up. Have a blast.