Bring your family to Scotland for Coyne Cup 2017: August 22nd - 26th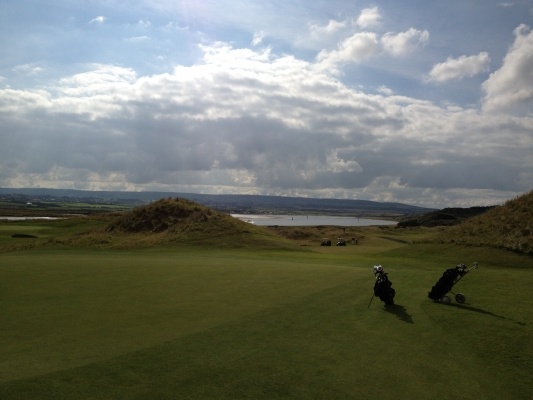 This summer we'll head back into the dunes with
New York Times
Bestselling Author, Tom Coyne, who
insisted that the tour­na­ment reflect the spirit of his
book,
A Course Called Ire­land
. We promise another memorable tournament this year!
Tom recently published an article on golf.com: "As Attentions Turn to Hazeltine, a Group of Golfers Head to Ireland in Pursuit of a Different Cup," which included highlights of last year's Cup. "Nearly 10 years after my walk, a friend at Old Sod Travel suggested we put together a trip for folks who might be curious to sample some of the courses I lauded in my story. We decided to make it a team match—we would draft two sides, then pit Team Coyne versus a team captained by the source of much of the book's comedy, Paddy the Caddy from Kinsale. We anticipated a 12-on-12 grudge match, but suddenly we had two busloads of golfers headed to the championship links of Rosses Point, the unrivaled dunes of Enniscrone and my favorite course in Ireland, Carne in yonder Belmullet."
A tournament of this size and stature could only be held at one of the leading resorts in the British Isles. Machrihanish Dunes is renowned for its hospitality but the rooms, the food, the views and the golf combine for a special experience.
Two weeks after the announcement that Machrihanish Dunes would host the Second Annual Coyne Cup, the resort received the prestigious "Best Hotel" award from Golf Tourism Scotland. Although we would love to take credit for the win, Machrihanish Dunes has won about 50 significant awards since reopening its doors in 2008.
As was the case in 2016, the tournament will feature Ryder Cup style competition, great camaraderie and most of all unforgettable craic! What's different is that the field will expand to four teams to accommodate a larger group. Not to mention that many of this year's participants plan to bring spouses and their kids, so we will have some additional activities planned for any of our non-golfers who are joining us.
No plan­ning is required. It's not com­pli­cated. Sign up. Have a blast.
The tournament field will be limited to the first 80 people to complete the tournament registration form so don't miss your chance to register!